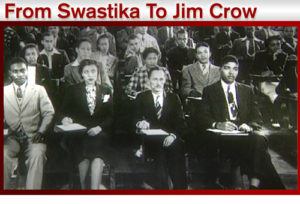 Pacific Street Films proudly presents From Swastika to Jim Crow, a fascinating and moving one-hour documentary that tells the previously untold story of the many German Jewish professors who, expelled from their homeland by the Nazis, found new lives and careers at all-Black colleges and universities in the South. Through in-depth interviews with many of the surviving professors as well as their former students, From Swastika to Jim Crow uncovers a remarkable moment in American history and offers a fresh perspective on the complex history of race relations in America. Major funding provided by ITVS (Independent Television Service) and The National Foundation for Jewish Culture.
Date:   Thursday, November 16, 2017
Time:  7:00 – 9:00 PM
Location:  3412 Crawford St, Houston, TX 77004
Parking:  HCC Lot 9
The screening is free and open to the public, however, donations are welcome.
Registration is required.  Please call 713-520-8226 OR send email to cfhr1@juno.com to register for this event.
Houston Community College System seeks to provide equal educational opportunities without regard to race, color, religion, national origin, sex, age or disability.