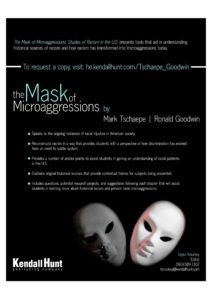 The Center for the Healing of Racism presents
Book Signing & Lecture:  The Mask of Microaggressions
 By Mark Tschaepe and Ronald Goodwin
Date:   October 4, 2017
Time:   7:00 – 9:00 PM
Where: 3412 Crawford St., Houston, TX 77004
Parking:   HCC Parking Lot #9, Holman & Crawford
RSVP: cfhr1@juno.com or Call:  713-520-8226
Mark Tschaepe is Assistant Professor of Philosophy at Prairie View A&M University and Adjunct Assistant Professor at Baylor College of Medicine. He is also a Board Director for AIDS Foundation Houston. He has published on a wide range of topics in philosophy, including bioethics, scientific explanation, and human dignity. Dr. Tschaepe's current work focuses stigma, discrimination, treatment accessibility, and HIV in Waller County, Texas. He is also working on issues concerning cultural humility and ethics.
Ron Goodwin is an Assistant Professor at Prairie View A&M University in Prairie View, Texas.  Even though he was a military "brat," Goodwin considers San Antonio home. Like his grandfather, father and brother, he enlisted in the US military and completed his undergraduate degree from Texas Lutheran University while on active duty. After his honorable discharge, he completed his graduate education at Texas Southern University (MA, MS, and PhD). Goodwin has published several books and articles focusing on the intersection of race and neighborhood development, the political impacts of the urban planning processes, and the cultural preservation of Texas' black community through the New Deal's Slave Narratives.
Houston Community College System seeks to provide equal educational opportunities withoutregard to race, color, religion, national origin, sex, age or disability.